Uncover the thrilling fan reactions to the final episode of the Siyani drama! Get ready for an exciting journey of emotions and surprises.
A popular drama series on Geo Television called Siyani broadcasts every day at 9:00 pm. The drama was written by Sadia Akhtar and directed by Ali Akbar. Under the supervision of 7th Sky Entertainment, Abdullah Kadwani and Asad Qureshi produced the drama. Mohsin Abbas Haider, Anmol Baloch, Usama Khan, Saniya Shamshad, Seemi Pasha, Tipu Shreef, Hashim Butt, Fahima Awan, Esha Noor, Fazayla Lasharie, and Erum Akhtar were all part of the drama's ensemble cast. The drama topped the ratings rankings and stayed there for its first 100 episodes. Additionally, the drama has received more than 1 billion views on YouTube thus far. The drama's plot centered on a crafty and selfish woman who, out of avarice, destroyed her husband and his family. The plot and cast members' acting were adored by the audience.
Siyani Last Episode – [Eng Sub] – Anmol Baloch – Mohsin Abbas Haider -Saniya Shamshad – 31st Dec 22
The highly anticipated last episode of the popular drama series aired today. Fans enjoyed the drama's conclusion since they had been waiting for Kiran's punishment, but they felt that Abrar's punishment was also necessary. They praised the entire cast's acting and overall drama. Drama fans believed that characters like Kiran could never learn from their mistakes and would always end up in strife. Kiran's suicide was disliked by many people. They claimed Kiran ought to have experienced hardship in real life. Abrar, Kiran's husband, was also called for harsh punishment because he had stolen her possessions and cheated on her, according to some admirers who felt bad for Kiran.
Some viewers felt that the drama was unduly drawn out and that the numerous flashbacks ruined the original story's magic. The final episode, which was much anticipated by viewers, made many of them cry, and they were all relieved to see Kiran punished. Many spectators praised the producers for concluding the drama. Male leads Zarbab and Zohaib were both adored by the audience. Fans highly applauded the acting in the most recent episode by Mohsin Abbas Haider and Anmol Baloch. The show was adored by viewers in Bangladesh and India as well. The comments are as follows: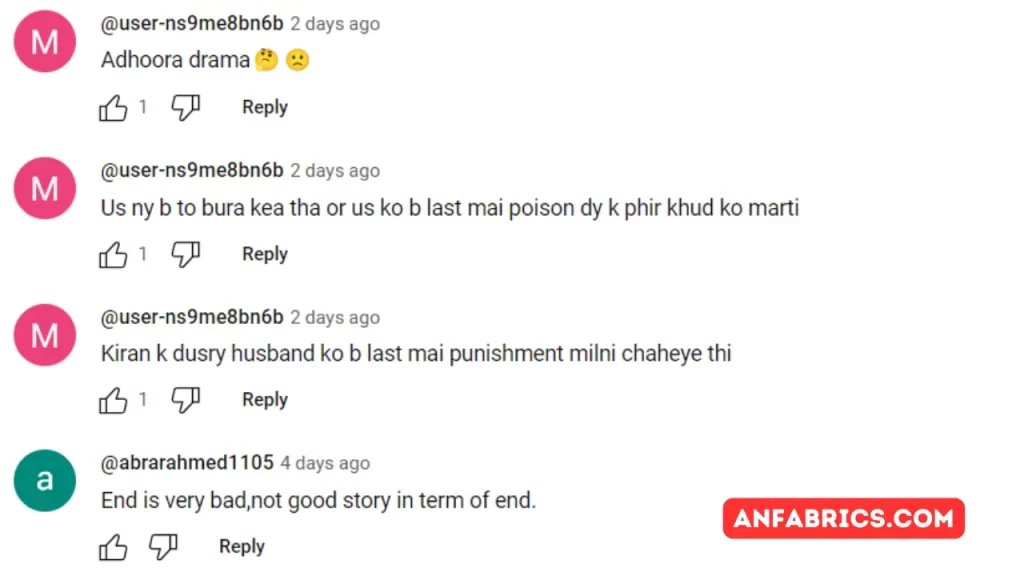 Embark on an enchanting journey with Sunita Marshall and Hassan Ahmed as they explore the breathtaking beauty of Basho Valley.