Stay cool and stylish this summer with So Kamal's Lawn Collection 2023! Featuring elegant designs and comfortable fabrics!
So Kamal is a well-known high-end brand that offers luxurious ready-to-wear and lawn collections. Founded in the 1950s, Kamal Limited is one of the oldest fabric mills in Pakistan. So Kamal provides customers with the best quality materials woven with care using the finest threads and top-quality printing techniques. In addition to printing, So Kamal's ready-to-wear garments and so kamal lawn sale 2023 with price feature artistic embroidery and embellishments that reflect their passion for their work and dedication to meeting their clients' demands.
Lawn suits are popular among women in Pakistan, especially for college, university, and office attire. Ready-to-wear clothing saves time and energy by eliminating the need to visit a tailor and design an outfit from scratch. Many brands in Pakistan specialize in up-to-date and fashionable ready-to-wear lawn clothes.
The So Kamal Lawn Collection 2023 is filled with bold floral prints, traditional motifs, geometric patterns, stripes, color blocking, royal designs, paisleys, and intricate floral embroidery. The color palette of this collection is carefully chosen according to the season and features vibrant shades such as blue, red, pink, yellow, mustard, beige, maroon, green, brown, grey, white, and orange. The collection includes beautifully printed and embroidered shirts in traditional and fusion styles to suit everyone's fashion preferences. This premium lawn collection by So Kamal includes three-piece suits in standard sizes. Each suit comes with a digitally printed chiffon dupatta that complements the print and color of the shirt and trousers.
The So Kamal lawn collection 2023 features a set made of lawn material starting from PKR 6,250 and PKR 6,550. The suits in this collection are versatile and can be worn to work, parties, or semi-formal occasions. So Kamal is available nationwide and can be purchased from their brand outlet and fabric stores that stock So Kamal garments. With this beautiful lawn collection by So Kamal, you can step into the warmer weather dressed in breezy fabric and make a statement.
Previewing SO KAMAL's Unstitched and Ready-to-Wear Fall Collection 2023: What's in Store?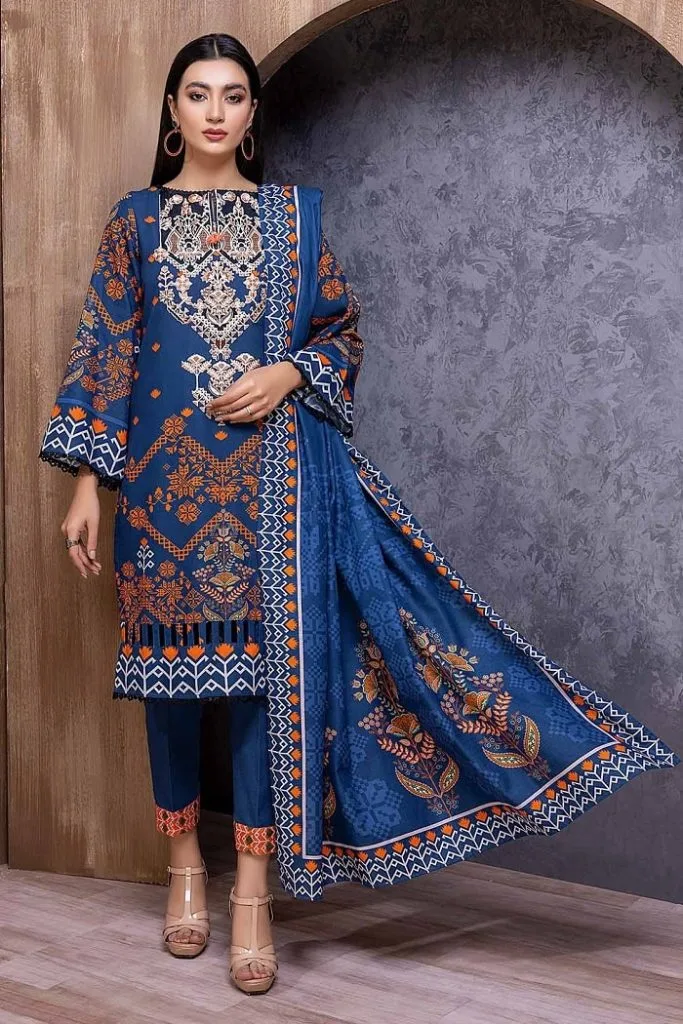 So Kamal's latest Autumn collection is a perfect blend of quality, style, and comfort. The collection features a range of rich transitional shades, including majestic reds, greens, blues, and pops of pinks and yellows, each with unique significance. The stunning Amna Baber models the chic ensembles against natural backdrops, creating a clean autumnal vibe.
The collection offers a delightful selection of prints, including stunning floral, Asian, and elaborate patterns on the finest fabrics, such as raw silk and cambric. The shirt pieces are adorned with elegant and intricate embroidery, adding to their charm. You'll be spoiled for choice whether you prefer so kamal sale unstitched 2023 or pret pieces. You can use either style and stitch them according to your preferences or opt for one of the ready-to-wear pieces, which feature stylish and traditional cuts and silhouettes.
So Kamal's new collection promises to make you look fashionable and sophisticated this Autumn. Check out the gorgeous outfits below!
Exactly how to Style Your Lawn Clothing in 2023!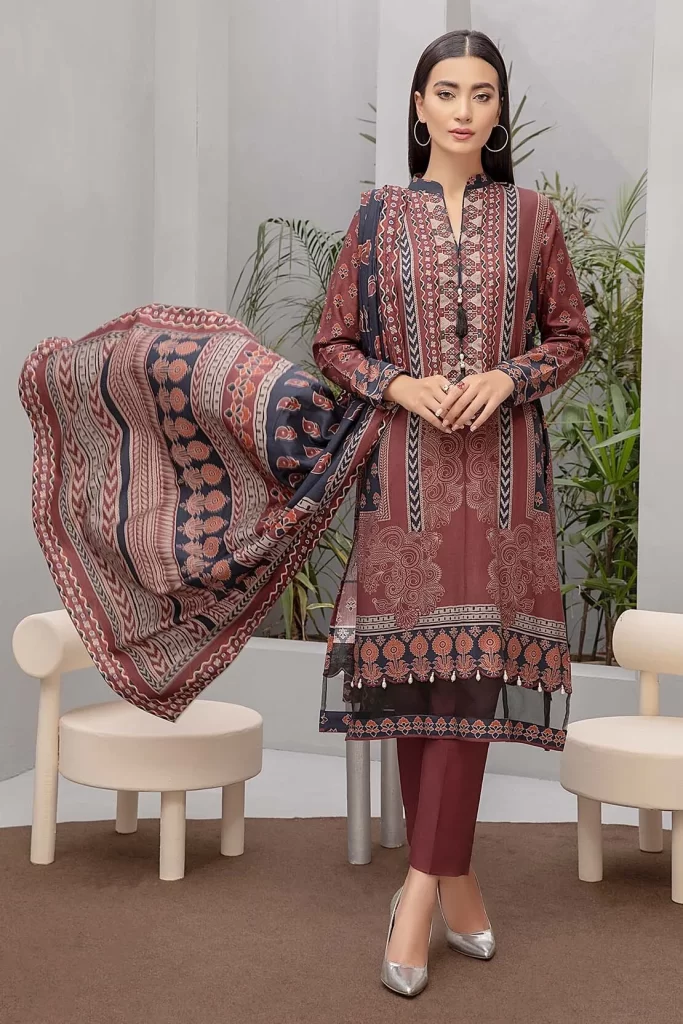 The gloomy and freezing winter days are finally over, so it's time to start styling ourselves with bright and cheerful colors for spring and summer!
In Pakistan, the warmer climates can be pretty brutal, and it's no surprise that the soft and breezy lawn fabric has become our best friend. Lawn collections and how they're printed and designed are a craze among many fashion-conscious Pakistanis. With so many options available, it's easy to fall into the trap of wearing your three-piece lawn suits in the same old traditional ways.
Since 2023 is all about embracing all kinds of colors, whether pastels or deep shades, made in beautiful digital prints and embroidery, it's understandable to feel confused and overwhelmed about how to style your lawn. If you're worried about what to buy and how to wear it, Darazlife has put together all the trending lawn designs and prepared the ultimate style guide to stay on top of your fashion game.
Check out the latest trends below!
Three-Piece Digital Prints:
Digital printed lawn always looks stylish with intricate and trendy patterns and designs that allow us to wear them formally and casually. This Spring, digital prints are all about glorious colors with matching dupattas, making it the perfect way to look sophisticated for family gatherings. Pair them with a cigarette or straight pants, and you'll look stylish!
Traditional Angarkha Design:
If you're wondering how to sew your lawn kurtas for a chic casual look, go for trendy stitching ideas. The classic angarkha can always stay in fashion and always looks good! It can give your simple lawn shirts life and make you look fashionable.
Short Kurtis for a Casual Look:
Beat the heat and look stylish and cute by stocking up on short kurtis this Spring and Summer. Super comfortable and breezy, lawn short kurta designs can never go wrong. The best part about them is that they can be paired with jeans, bell bottoms, and loose pants, making you look incredibly stylish. It's perfect for women who love being on the go!
Trendy Bell Bottoms for Evenings:
Have evening plans where you want to look fashionable to showcase your youthfulness? Then the perfect way to achieve this is by wearing bell-bottom pants and high heels. It's bound to fetch you compliments!
Take Inspiration from Ethnic Trends in All White:
If there's one look that can never go out of fashion, it's an all-white ethnic kurta. All-white is the accurate way to look stylish and graceful, whether plain, embroidered, or embellished with decorations. Pair it with printed chunri dupattas, and you'll look like the perfect desi-style queen!
Show off a Simple and Classy Boss Look with the One-Tone Pattern:
Last Winter, one-tone kurtas and shalwars were a huge hit, and they've made their way well into Spring trends too, and we're digging it! Show that you mean business and jump on this simple yet incredibly classy and trendy trend's bandwagon. You won't regret it!
New Eid Dresses for Women in Pakistan 2023
The awaited moment for Muslims is just around the corner, and the search for the latest Pakistani Eid dresses for women is on. Girls and women of all ages are rushing to get the newest summer Eid wearables from various Pakistani designers because this Eid will be hot. Styleglow has exclusively sorted the best-selling Eid dresses 2023 from all the available brands in Pakistan, which you can buy confidently.
Dress designers from different brands are in full swing, designing summer lawn Eid outfits that meet customers' current demands for party wear as well. Every type of clothing can be experienced on this special day.
Most Popular Newest Eid Dresses 2023
Ladies, Eid dress collections are ready to wear and in stores now from all designers and brands, but the question is, which are the best Eid dresses? What are the hot-selling articles, classified by quality and modern design?
Many other questions always come to mind because we know only some of the Eid dresses in 2023 are the best option. Therefore, we will share a list of all the hot-selling dresses from all brands you can choose from.
It all depends on you and which look you want to achieve. If you want a modern look, contemporary attire could be a new choice. You can choose options like lehenga choli, embroidered shirts, and suits for this summer, Eid, with exceptional dress styles to achieve a traditional look.
Regarding Eid wear dresses for girls, there is a wide range of clothing options from new party wear dresses, ready-to-wear kurta, silk tunics, chiffon dresses, and full ready-to-wear suits to saree and lehenga choli dresses.
Most Popular Newest Eid Dresses 2023
Trends have changed, and people follow the most famous brands for modern designs, quality, and promotions on social media. Different signature designers like Tena Durrani, Sania Maskatiya, Maria B, Khaadi, Sana Safinaz, So Kamal, and Ivy Prints have their influence on the young generation and women as well. Check out the latest short frock designs to explore the depth of women's wear designers in 2023.
We have compiled a list of famous brands and designers for Eid dresses for women:
Bareeze
Khaadi
Tena Durrani
Alkaram
Maria B.
Sania Maskatiya
Sapphire
So Kamal
Spotlight
Kayseria
Modern Eid Dress Designs 2023
Eid can be a hectic time for women, especially those who are busy during the month of Ramadan. They need help finding time to shop for their favorite clothing. To address this, we have selected captivating and comfortable prints for modern Eid styles and designs.
This way, women can choose any of these designs and enjoy their Eid day to the fullest. They can also refer to the new Pakistani Eid dress collections 2023 for girls and women.
When it comes to Eid wear in the summer, there is no specific dress code, but we suggest prints, pastels, colors, shimmer, and lots of glamour for this Eid. You can wear eastern wear or turn your traditional dress into a modern Eid outfit with a unique stitching style. So, why not make a bold fashion statement this festive season with quirky prints and stylish modern designs?
Looking to elevate your summer Eid wear in 2023? Take inspiration from the latest Eid collections!
Summer Lawn Eid Dresses 2023
We've gathered some great options in our upcoming gallery if you're after mature and elegant summer lawn dresses for Eid. This year's popular designer summer collection is charming and comfortable to wear. Check out the latest summer Kurti designs for inspiration for your outfit.
Fashion Glow's Eid Edit 2023
Want to look stylish this Eid without breaking the bank? Our expert fashion team recommends opting for unstitched lawn single pieces and mixing and matching them to create a modern dress. Plenty of clothing brands offer great single-shirt pieces, so the choice is yours!
FAQs:
How to Cancel an Order on So Kamal?
To cancel your order on So Kamal, you can contact them via mobile at 0312-SOKAMAL (0312-7652625) or email them at [email protected] or [email protected].
How to Return an Order on So Kamal?
If you need to return an order to So Kamal, please ensure that the product is unused, unworn, unwashed, and free of any flaws. Fashion products can be tried to see if they fit and will still be considered unworn. Also, ensure the product includes the original tags, user manual, warranty cards, freebies, and accessories.
The product must be returned in the original and undamaged manufacturer packaging/box. If the product was delivered in a second layer of packaging, it must be returned in the same condition with the return shipping label attached. Avoid putting tape or stickers on the manufacturer's box.
When returning your product, be sure to indicate the order number and return tracking number on the package to avoid any delays or inconvenience in the return process.
How to Track Your Order on So Kamal?
If you're receiving a package from So Kamal, you should track its progress to know when it will arrive. Fortunately, So Kamal offers several options for tracking your order, which can help you stay informed about its status and estimated delivery date.
So Kamal Outlet in Multan
If you're looking for a So Kamal outlet in Multan, you can visit the Gulgasht Colony branch. This branch is located at Plot # 30/A, Shop # 4, Gulgasht Colony, Multan, Punjab, Pakistan.
So Kamal Store in Karachi
If you're in Karachi and want to visit a So Kamal store, you can go to the Dolmen Mall. The store is located on the first floor, near the elevators and Auditorium, in the Sea View area of Clifton.
So Kamal Location in Peshawar
If you're in Peshawar and want to visit a So Kamal store, you can go to the one on the Main University Road, adjacent to Al-Fateh Store.
So Kamal Address in Hyderabad
If you're in Hyderabad and want to visit a So Kamal store, you can go to the one on Auto Bahn Road in Latifabad Unit # 3, Machi Kot.
Who Manufactures So Kamal Lawn?
So Kamal is a retail brand for Eastern clothing. Although we were launched in 2012, we are backed by the oldest textile mill in Pakistan called KAMAL Ltd, which has been operating since 1954. We produce high-quality products, which is why they are affordable. With over 25 stores in Lahore, Islamabad, Multan, Rawalpindi, Sargodha, Faisalabad, Hyderabad, Swat, and Rahim Yar Khan, we are continuously expanding. You can also shop online at our website, www.sokamal.com.
Stay up-to-date with the latest fashion trends by shopping with So Kamal. We prioritize our customers and exist solely to provide value to you. Please share your stories and experiences with us; we always listen.
so kamal sale
so kamal sale unstitched 2023
so kamal winter collection
so kamal lawn
so kamal online shopping sale 2023
so kamal grand sale unstitched
so kamal lawn 2023
so kamal summer collection 2023
so kamal winter sale unstitched 2023
so kamal winter collection 2023
so kamal online
so kamal outlets in lahore
so kamal winter collection 2023 with price
so kamal winter sale
so kamal lawn sale 2023
so kamal lawn sale 2023 with price
so kamal outlets in karachi
so kamal pk
so kamal sale 2023
so kamal sale unstitched