Discover the history of ripped jeans, from function to fashion. See how this iconic style has evolved over time. Read now!
Ripped jeans, also known as distressed jeans, are a popular fashion item that has been around for decades. The origins of ripped jeans can be traced back to the punk rock movement of the 1970s. It was during this time that musicians began wearing clothes that were torn and distressed as a way to express their rebellious nature.
In the 1980s, ripped jeans became more mainstream thanks to the influence of pop culture icons like Madonna and Michael Jackson. During this time, ripped jeans were often paired with oversized t-shirts and bold accessories.
Throughout the 1990s, ripped jeans continued to be a popular fashion trend, with grunge music and fashion taking center stage. Ripped jeans were often paired with flannel shirts and combat boots, giving off a laid-back, casual vibe.
In the early 2000s, ripped jeans took on a new look. Rather than being heavily distressed and torn, jeans were now being ripped in specific areas, such as the knees or thighs. This more subtle look became popular with celebrities and fashion icons, and continues to be a popular trend to this day.
Today, ripped jeans come in a wide range of styles and designs. From heavily distressed and torn jeans to subtle rips and tears in specific areas, there is a style of ripped jeans to suit everyone's taste. Whether dressed up with a blazer and heels or dressed down with a t-shirt and sneakers, ripped jeans remain a staple in many people's wardrobes.
Hottest Picks: Destroyed Crop Jeans in Trend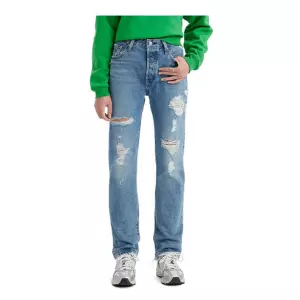 Levi's Women's 501 Original Cropped Jeans – These iconic jeans feature a distressed finish and a straight leg fit that flatters the figure.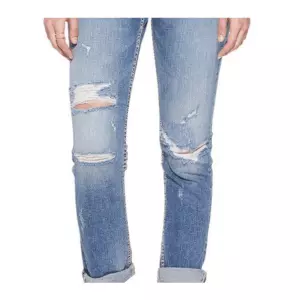 Silver Jeans Co. Women's Suki Curvy-Fit High-Rise Crop Jeans – These cropped jeans have a stylish distressed look, as well as a flattering high-rise fit that accentuates the waistline.